Air Travel to Cedar Rapids, IA (CID)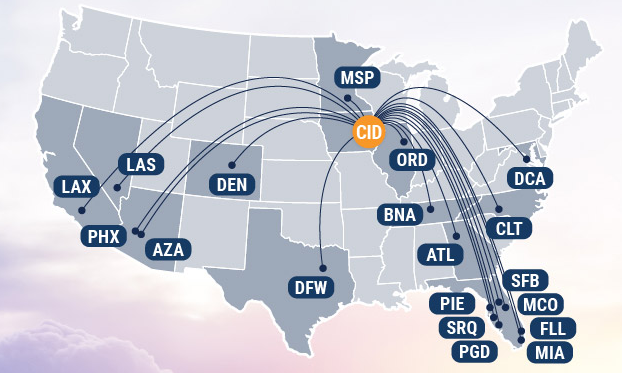 Most major airlines provide service to/from Cedar Rapids (CID).

Airlines & Nonstops
*NEW* Fort Lauderdale
(FLL – First flight Nov. 17!)

Las Vegas (LAS)
Los Angeles (LAX — Seasonal)
Nashville (BNA)
Orlando Sanford (SFB)
Phoenix-Mesa (AZA)
Punta Gorda/Ft. Myers (PGD)
St. Petersburg/Tampa (PIE)
Sarasota (SRQ – Seasonal)

Allegiant Travel Company
ATTN: Customer Relations
P.O. BOX 401026
Las Vegas, NV 89140

Charlotte (CLT)
Chicago (ORD)
Dallas-Ft. Worth (DFW)
*NEW* Miami (MIA) Seasonal starts Nov.
Phoenix Sky Harbor (PHX)
Washington, D.C. (DCA)

American Airlines Customer Relations
4000 E. Sky Harbor Blvd.
Phoenix, AZ 85034

Atlanta (ATL)
Minneapolis/St. Paul (MSP)

Delta Air Lines, Inc.
Customer Care
P.O. Box 20980
Department 980
Atlanta, GA 30320-2980

Denver (DEN)
Orlando (MCO -Seasonal)

Frontier Airlines
7001 Tower Road
Denver, CO 80429

Chicago (ORD)
Denver (DEN)

United Airlines, Inc.
Customer Care
900 Grand Plaza Drive NHCCR
Houston, TX 77067-4323
Shuttle service to the hotel is available and free. It can be scheduled in advance (call the front desk) and the van will likely meet you. If you call upon arrival, you'll have a 15 to 25 minute wait for pick-up. Schedule your outbound shuttle with the front desk.